NICOLA GILL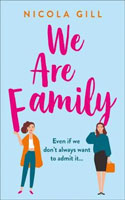 We Are Family (2020)
Laura has never felt like she measured up to her older sister Jess, an Instagram influencer with the perfect family, marriage, house and life. Meanwhile Laura has a job on a magazine that looks like it's going out of business, a partner who's rather lazy and some school trouble with her young son Billy. And her difficult relationship with mum Evie certainly didn't help matters.
Now, as the sisters need to come together to settle their late mother's affairs, it seems that Laura is not the only one with problems.
While the theme of two very different sisters trying to find common ground was nicely handled, the book had very short chapters which often ended too abruptly as well as plot points that came to the fore and disappeared again without much resolution.

---