NEELY TUBATI ALEXANDER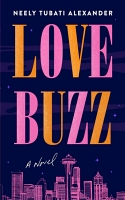 Love Buzz (2023)
Serena is on a bachelorette trip to New Orleans when she meets an intriguing stranger called Julian at the bar, who also lives in Seattle like her. But with her cousin bride Coral throwing up, their time together is cut short.
Back in Seattle, Serena desperately runs through the things she knows about Julian, such as that he works at a start-up and loves Nirvana, in the hope she can track him down.
Meanwhile, her alumni interview Life at Thirty is looming, and she is worried she's not as accomplished or established in life as all the previous subjects. Serena – still reeling from the loss of her mother - proceeds to blow up her life anyway.
With a great female lead, this was an awesome debut that takes us on a journey of self-discovery as Serena questions what will help her feel fulfilled in life.