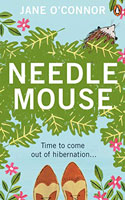 Needlemouse, the debut novel by Jane O'Connor, centres around a fifty-something woman who is secretly in love with her boss.
The summary says: "Sylvia Penton has been hibernating for years, it's no wonder she's a little prickly...
Sylvia lives alone, dedicating herself to her job at the local university. On weekends, she helps out at a local hedgehog sanctuary because it gives her something to talk about on Mondays - and it makes people think she's nicer than she is.
Only Sylvia has a secret: she's been in love with her boss, Professor Lomax, for over a decade now, and she's sure he's just waiting for the right time to leave his wife. Meanwhile she stores every crumb of his affection and covertly makes trouble for anyone she feels gets in his way.
But when a bright new PhD candidate catches the Professor's eye, Sylvia's dreams of the fairy tale ending she has craved for so long, are soon in tatters, driving her to increasingly desperate measures and an uncertain future. Sylvia might have been sleep walking through her life but things are about to change now she's woken up." Needlemouse is out in April 2019.
TEXT