MELISSA BARON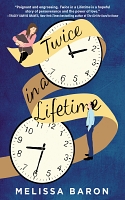 Twice in a Lifetime (2022)
Freelance graphic designer Isla has moved from Chicago to a cottage in Missouri after the death of her mother and continues to experience crippling anxiety and panic attacks. She gets a text message from a guy called Ewan, who claims he is her husband in the future. He has photos of them together and knows things no one else would know.
Ewan reveals they met after she suffered a brain injury in a car accident and he was her physical therapist. All he wants is for her to avoid that fate. But if she does, will they ever meet?
This had all the promise of an emotional and moving story but I ended up getting bored. Also some of the time slip explanations in the second half were confusing and distracted from the content. However, the portrayal of Isla's mental health struggles was top-notch and I appreciated Ewan's Korean background.