MELANIE BLAKE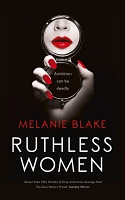 Ruthless Women (2021)
St Augustine has been the scene for soap Falcon Bay for nearly 40 years and a fragile alliance has been forged between the show's most powerful women – executive producer Amanda, head of casting Helen, leading lady Catherine Belle, and writer-director Farrah.
Amanda returns from maternity leave to find she's been dumped from sharing the showrunner role with her ambitious husband Jake, thanks to new network owner Madeline Kane.
With Falcon Bay in the ratings doldrums, it is decided that a new bitchy character will be introduced to face off against fan favourite Lucy (the role played by Catherine) and agent Sheena wants it to be one of her fading stars. Meanwhile, Farrah is determined to win the coveted role of directing the live Christmas Day episode.
Written by a British talent agent, Ruthless Women and its sequel Guilty Women is firmly aimed at fans of Jackie Collins. There's backstabbing, betrayal and bitchiness galore in this drama-filled and sex-drenched story.

---