MEG MITCHELL MOORE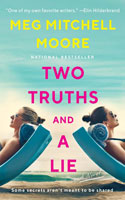 Two Truths and a Lie (2020)
Sherri and her daughter, Katie, have moved to a small Massachusetts beach town to start afresh. She claims she has just gone through a bad divorce but the truth is much darker than that. Keen for her daughter to fit in, Sherri finds the women in the community are somewhat cool towards them, all except Rebecca, who has drifted away from the mom squad after the sudden death of her husband.
Meanwhile Rebecca's teen daughter, Alexa, has been secretly cultivating a popular YouTube persona and hasn't yet told her mum that she doesn't plan on accepting her college place.
The narrative is told from multiple points of view, and while sometimes I found the writing a bit awkward, overall the plot with its secrets, rivalries and tension kept me turning the pages. The book opens with a car crash and the mystery of who it involves keeps the story propelling forward towards that climax.

---