MEG BIGNELL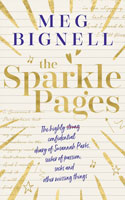 The Sparkle Pages (2019)
Former musician Susannah hasn't picked up her viola in years – and has fallen into a rut in her suburban life with a husband and four kids. Meanwhile her best friend, pianist Ria, is living the dream overseas and even her engineer husband has had an Antarctica adventure.
But this year Susannah's embarking on the Sparkle Project to make herself more interesting – and reignite that spark in the bedroom.
Following a diary format, this humorous debut novel tracks Susannah's daily musings on her life in Tasmania. Although I went into this book with high hopes, the sparkle soon faded, I couldn't really relate to Susannah and I had to push myself to persevere to the end.