MEGAN NICOL REED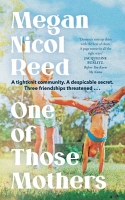 One of Those Mothers (2023)
Bridget and her friends Lucy and Roz have been friends for years but something happened on a group holiday at the start of the year that has severed that tie.
Now a man from their Point Heed community has been convicted over child pornography but his name has been suppressed. With everyone speculating who it could be, the men are keen to proclaim their innocence.
Told from Bridget's point of view, the story flips between the coastal vacation in New Zealand and the current day, exploring her unease and suspicions. It was an interesting premise with rising tension but something just didn't work – not least the unsatisfying conclusion.