MEGAN LEAVELL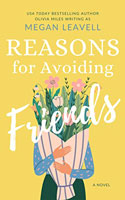 Reasons for Avoiding Friends (2021)
Mother-of-three Gwen is writing her Christmas letter, putting a shine on her family. But things are far from domestic bliss, especially with husband Michael out of work and her party-plan cosmetics business struggling to make any sales.
Meanwhile her former friend Iris struck it rich, moving to Manhattan and marrying a wealthy man. But now, after being shipped off to rehab for her drinking, Iris returns to her hometown and asks to stay with Gwen. The pair are about to find out that the picture-perfect life the other portrayed was all a facade.
This was an entertaining and totally relatable tale about two women who reconnect when times are tough, finding their friendship and self-confidence again.

---