MAY COBB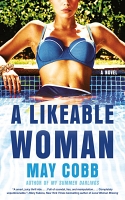 A Likeable Woman (2023)
Kira has been invited to her childhood friend Genevieve's vow renewal ceremony in Texas. She has barely been back to her hometown since her artist mother Sadie overdosed in a suspected suicide.
Kira has never believed her mother would kill herself, leaving behind her two daughters. And now her grandmother tells her that Sadie had left behind pages of her memoir covering the time leading up to her death.
In between reading her mother's story, catching up with her good friend Jack and attending all the celebratory events, Kira is also receiving threatening text messages to stop digging into the past.
With its moody setting, the story made room for plenty of suspects although it is likely the reader will suss it out a heck of a lot quicker than Kira. The way she acted at times was somewhat implausible and annoying, designed purely for the suspense.