MAGGIE SMITH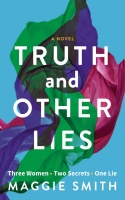 Truth and Other Lies (2022)
After losing her reporter job, Megan heads home to Chicago, moving back in with her mother, Helen. Helen, a pro-life activist, announces that she's running for Congress as a Republican. But Megan, a staunch pro-choice Democrat, tells her she won't be supporting her on the campaign trail.
Then Megan gets caught up in a campus rally that leads to renowned war correspondent Jocelyn Jones offering her a job doing PR for her memoir release. But an anonymous tweet could derail Jocelyn's career and test Megan's loyalties and integrity.
This debut novel poses some interesting ethical questions as Megan attempts to rebuild her career and grapple with her relationship with the two influential women in her life – her journalism idol Jocelyn and the mother she thinks she is nothing like.

---