MADI SINHA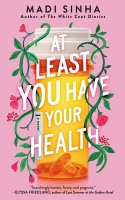 At Least You Have Your Health (2022)
Maya is a married mother to three children and drives an old van. She's an ob-gyn but doesn't attend births anymore, instead practising as a gynaecologist at a hospital medical centre.
With her daughter transferring to a new school, all Maya wants is to fit in with the other mothers. Women like Amelia, the chic and much-admired owner of a women's health service that offers bespoke at-home services. When Maya is offered a position at Amelia's wellness clinic, it may help her social standing but at the cost of having to compromise some of her beliefs.
This was a clever, witty and timely read, shining a spotlight on the wealth gap in healthcare and wellness misinformation. Maya was a refreshing character whose motives were understandable as her ethics were tested.

---