LUCY VINE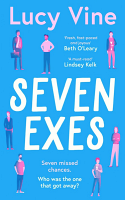 Seven Exes (2023)
Esther has a great job in events and shares a flat with her two friends, Louise and Bibi. But now she's ready to settle down with the right guy. In a pub, she comes across an old magazine with an article about the seven types that women will date - The First Love, The Work Mistake, The Overlap, The Friend with Benefits, The Missed Chance, The Bastard, and The Serious One - and realises her exes match those descriptions perfectly.
So Esther plans a mission to revisit them all to see if she actually missed out on her Mr Right. And so she begins with tracking down her schoolyard boyfriend, Alistair.
This was an entertaining read as the character takes us on a journey into her romantic past, with a few surprises - for the readers and for Esther. She is somewhat unlikeable for most of the book, and it was kinda obvious who she was going to end up with – but I was still rooting for her happy ending.

---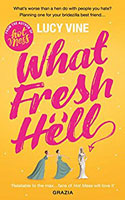 What Fresh Hell (2018)
Twenty-eight-year-old Lilah Fox is having a very busy year. Her job as a producer assistant is very demanding, her divorced parents call her all the time to complain about each other, and she has one wedding after another to attend, including all those hen dos.
Things get even busier when her best friend Lauren gets engaged and turns into a bridezilla, wanting Lilah's complete attention night and day.
Meanwhile, her boyfriend Will is feeling neglected and her bank account is dwindling. When will Lilah find time for herself? And when will she learn to stop being such a people pleaser?
I loved Lucy Vine's first novel, Hot Mess, and I loved this one even more. It's sharp, accurate, and so hilarious. I couldn't stop laughing, especially at the hen do scenes. I really liked Lilah, she's engaging, smart, and very funny - the kind of girl you wish you had as a friend. This is a refreshing, witty, and enjoyable novel, a complete page-turner! (NP)

---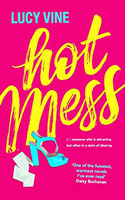 Hot Mess (2017)
Everyone in Ellie Knight's life is worried about her singledom. Ellie doesn't feel particularly lonely although she has to admit as the big 3-0 approaches perhaps she doesn't have the life she's supposed to.
She shares a house with a guy who despite being hugely good looking seems to go out of his way to annoy her; she's stuck in a job she hates; and her dad's just started writing his first novel, 75 Shades of Tony, which he delights in sending to her and her sister.
So maybe everyone's right and she needs to find a boyfriend. Her best friends Sophie and Thomas set her up on Tinder so surely she'll get her happy-ever-after before she's 30?
This may be Lucy Vine's debut novel but it absolutely can't be her last, because she brings a whole new philosophy to chick lit with her lewd sense of humour, her brilliant characters and her desire to shake up convention. Her no-nonsense language and humour may not be to everyone's tastes (she's not afraid to use a swear word or several) but I can't remember the last time I laughed as much at a novel. Absolutely riotous fun and I can't wait to see what comes next from this new girl on the block. (JC)