LUCY NICHOL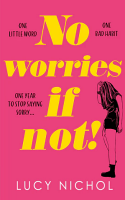 No Worries If Not! (2023)
Charlotte always apologises - even when someone bumps into her or she feels no spark on a date. She also never stands up to her pushy boss at her media buying agency. When she makes a request of someone, it is usually followed by "no worries if not".
But after a nurse tells her that she should never apologise for being a woman, Charlotte yells at a guy on the train who is manspreading and a video of the incident goes viral.
This was a witty, empowering and thoroughly enjoying story as Charlotte learns to cut the sorrys and stop minimising her own needs. The romance side was a little underdone but still well worth a read.