LUCY DIAMOND
Lucy Diamond is the adult pen name for British children's author Sue Mongredien.
---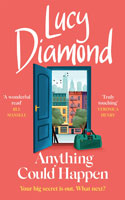 Anything Could Happen (2021)
Teenager Eliza finds out that the guy she thought was her father wasn't. Instead, her mum Lara admits that she was the result of a whirlwind romance with a fellow Brit in New York. So now Eliza's on a mission to track down Ben, which may help Lara put to rest an old mystery - why he disappeared.
This is a pleasant read about missed opportunities, second chances and forging family ties. However, I didn't find it as engrossing as I usually do with this author.

---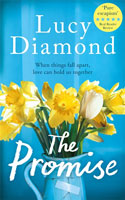 The Promise (2021)
After his older brother, Patrick, dies unexpectedly, Dan blames himself and makes a promise to take on Patrick's roles in life as best he can.
This includes as a helping hand to his sister-in-law Zoe, a fun father figure to Ethan, Gabe and Bea, as the dutiful son to his parents, and as a landlord to the tenants. But then he discovers Patrick was not so perfect after all.
This was a lovely story about a family rebuilding after a devastating loss. It is told mainly from the perspective of Dan, an endearing character who just wants to make things better. Lengthwise, it could have probably been a bit tighter.

---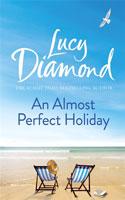 An Almost Perfect Holiday (2020)
Three women head to Cornwall for a summer holiday. Em has invited her new boyfriend, George, to join her and her two teenage children, but she wasn't expecting George's po-faced seven-year-old as well.
Maggie is hoping the break will help her bond with her daughter again but Amelia has other plans. And Olivia turns up unexpectedly after needing a break from her exhausting home life with young twin sons.
A warm-hearted story with great characters, blended families and emotive issues. The perfect holiday read.

---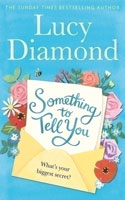 Something to Tell You (2019)
After Frankie's mother's death, she finds a letter that reveals her real dad is actually a guy called Harry Mortimer. So Frankie, an artist, heads to York to find him, stumbling across his 50th wedding anniversary party. The result is his shocked wife, Jeanie, takes off on their second honeymoon trip alone.
Meanwhile, Harry's other family members are facing issues of their own, including weight loss queen Bunny who is keeping a big secret and Robyn who is wondering why her husband has become so distant lately.
This is a really enjoyable read about a family you'll grow to love. Lucy Diamond always shines with her heartwarming storytelling and interesting cast of characters.

---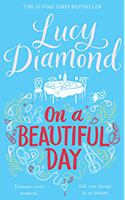 On a Beautiful Day (2018)
India meets up with three friends for a lovely birthday lunch but they are all shaken after witnessing a tragic accident. India is drawn to one of the victims, Eve is distracted due to worrying about a lump in her breast, Jo is seeing a new guy whose daughter hates her, while her sister Laura's hopes for a baby are dwindling.
The story centres around the notion that life can change in a moment, and sees all four women drawing on their friendship to navigate life's ups and down. How Diamond chose to sign off from these characters in the last few pages was beautifully done. It's a satisfying read that will warm your heart.

---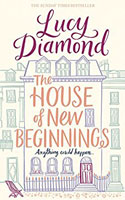 The House of New Beginnings (2017)
Yorkshire lass Georgie is a tad reluctant about following her architect boyfriend, Simon, to Brighton but she soon gets lucky and scores work writing for a local magazine. Problem is this soon means she's keeping secrets from Simon.
For Rosa, finding out her partner was living a double life was enough for her to jack in her job and start over as a sous chef at a Brighton establishment. And after a devastating loss, Charlotte plans to keep to herself but is soon befriended by the elderly Frenchwoman upstairs, Margot.
Centred around the residents of a seafront terrace house, this is a charming, gentle story about starting over, making friends and taking a leap of faith into new beginnings.

---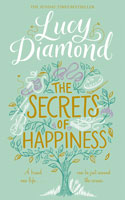 The Secrets of Happiness (2016)
Stepsisters Rachel and Becca haven't been close, especially not since the death of Rachel's father. But when Rachel doesn't return from a day out to pick up her three kids, Becca is called in to help. Having been absent from her sister's life for so long, she's shocked to discover that things aren't so rosy - that her marriage has disintegrated and she's struggling to get a personal training business off the ground.
Meanwhile, Rachel is in hospital with a hazy memory after taking a knock to the head during a mugging.
This book takes us on a heartwarming journey as two sisters find their way back to one another. It explores the reasons they drifted apart, the family secret that took Rachel to Manchester that fateful day, and sees both women being forced outside their comfort zones so they can move on to a happier future. Another great story from Ms Diamond.

---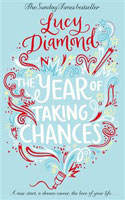 The Year of Taking Chances (2015)
Gemma, Caitlin and Saffron meet at Gemma's New Year's Eve house party. As they contemplate what they would like from the new year, none of them can predict just how momentous it will be for each of them or indeed the friendship that will develop between them.
Gemma's about to learn the real meaning of the vows "in sickness and in health" when her husband Spencer has an accident at work. For Caitlin, the new year means trying to come to terms with the death of her beloved mother and learning some uncomfortable truths. Meanwhile, Saffron has to face a completely unexpected challenge.
It was nice to kick off the year with a book so rooted in the idea of the new year. It felt hugely pertinent and just right. I enjoyed following these three women both individually and as a collective and Diamond really plots the story well with mini cliff-hangers in her chapters that involve you in each character's story and keep the momentum going. It was also pleasing that it wasn't just three love stories and that each of the characters have different struggles. A great way to ease into a new year. (JC)

---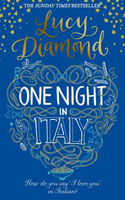 One Night in Italy (2014)
When journalist Anna discovers her father is Italian, she decides to embrace his cultural heritage by taking a language class. She also needs to somehow work out how to track him down despite only knowing his first name plus survive her boss' insistence that she takes over the cooking column.
Catherine is left on her own after her twins head off to uni and her husband reveals a bombshell. Despite being busy with her community work, she still feels unfulfilled and decides to take an evening class.
Sophie is living in Sorrento, Italy, when she is summonsed back to Sheffield after her father has a heart attack. Living at home with her parents is difficult, especially since travelling the world over the years has meant she has never focussed on a career. Then she is offered a position teaching Italian.
The story alternates between the three women's stories as they are brought together at the same class. The title is actually a strange one because I was expecting the story to be set more in Italy - instead there is only a fleeting visit. It's an entertaining and heartwarming tale about friendship and moving on, with characters you will embrace.

---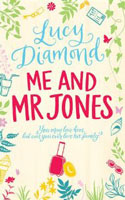 Me and Mr Jones (2013)
Lilian and Eddie have been running the Mulberry House bed-and-breakfast in Dorset for decades but now it seems that Eddie is not up to it. They have three sons - but are any of them willing and able to take on the business? Oldest son Hugh is married to the very capable schoolteacher Alicia but with her 40th birthday looming, Alicia feels it's time to stop being the dependable one and start living a little.
Maybe it would be better for middle son David to move in, as he has lost his job after all and his interior designer wife Emma could spruce up the place. But Emma, who is desperately wanting to start a family, isn't interested in that sort of life. And of course there is no way that youngest son, Charlie, is up to the task. He's unreliable and has never settled down. But now it seems that dance teacher and single mum Izzy has caught his eye.
This is a thoroughly enjoyable story, with characters that are easy to warm to.

---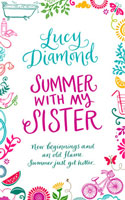 Summer With My Sister - Lucy Diamond (2012)
Polly and Clare are two sisters who couldn't be any more different to each other, yet share similarities they're unaware of. Polly has always been driven, and is living it up in London in the world of finance with late nights and partying. Clare is a divorced mum of two children struggling to make ends meet. But when Polly's life is turned upside down, she is forced to swallow her pride and turn to her family for help. Added into the mix is an old flame for Polly, a new career and mindset for Clare, and a family tragedy.
From the first page the reader is drawn into Polly's city life and how she has a high-faluting lifestyle, going out all the time, working all hours and not seeing much of her family apart from Christmas. On the other hand, Clare is still living at home, in the village where she grew up and working as a receptionist at a doctor's surgery with her friend Roxanne.
I disliked Polly initially as she seemed too full of herself and it isn't until she moves back home that we begin to see why she is like this. Clare is a brilliant character, trying to juggle single motherhood and a life of her own. Perhaps the big family secret was revealed a bit too early, but overall this was an enjoyable read which left me keen to see what Lucy Diamond will offer next. (KD)

---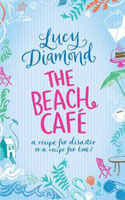 The Beach Cafe (2011)
Evie has never really settled into a job. She's tried her hand at acting, photography ... and now she's working in the office temp job from hell. So when her aunt Jo dies and leaves her Cornwall beach cafe to her favourite niece, it may just provide the opportunity for Evie to prove herself - to her family and herself.
But the staff have gone feral in Jo's absence and the locals aren't particularly welcoming. As Evie finds her feet and hires new staff - including her aunt's cake-baking friend Annie, chef Ed who seems to be hiding something, and Australian backpacker Rachel - she slowly becomes a vital part of village life.
This is another delightful read from Diamond, about a woman without direction discovering her own inherited recipe for happiness.

---
Sweet Temptation (2010)
Maddie works for a radio station where the new bitchy DJ, Collette, likes to put her down - even discussing her weight problem on air. Beauty therapist Jess' overbearing fiance, Charlie, keeps postponing their wedding and her new manager has it in for her.
And LoveHearts dating agency owner Lauren is feeling far from romantic after her marriage ended within six months. The three women all become diet buddies at the local Fatbusters group. As they shed the pounds, they also begin shedding whatever has been holding them back.
This is a sweet, funny story about three women inspired to make some changes. Just right if you're looking to order a light read off the menu. Just make sure you read it while riding an exercise bike!

---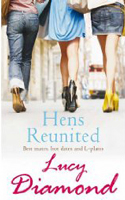 Hens Reunited (2009)
Georgia, Katie and Alice attended each other's hen's nights but now years down the track their marriages have all broken up. Georgia, who wed party boy Harry, is an ambitious newspaper gossip columnist who never wants to make that mistake again.
Alice married up-and-coming actor Jake who went on to become famous for his role in a popular soap. Now, with her marriage in tatters, she is moving into a country cottage with the baby daughter Jake's never seen - and she's never going to forgive Georgia for her betrayal.
Teacher Katie never wants to get married again, after husband Neil cheated on her - but her loyal boyfriend Steve may have other plans.
With the story told in alternating chapters, readers will be drawn into the realistically portrayed lives of the three women. This is the author's best to date.

---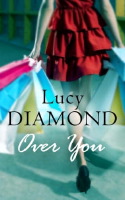 Over You (2008)
The days when Josie, Nell and Lisa were inseparable, living it up in London, seem like a lifetime ago. They have all since gone in separate directions - Josie into marriage and kids; Nell into travelling the world; and Lisa into a high-flying career.
With a reunion well overdue, Josie arranges a weekend away with her friends, leaving her husband Pete to look after the kids. Little did she know as she made the train trip into the city that she was about to make a discovery that would change the course of her life.
A solid story of friendship and jealousy, betrayal and starting over, with enough twists to keep you turning the pages.

---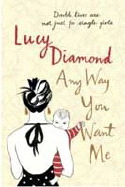 Any Way You Want Me (2007)
Stay-at-home mother Sadie feels that her life needs to be more interesting. She wants to enjoy nights out on the town without being forced home by leaking breasts. She wants to flirt and feel like a sex kitten. So she invents a fictitious online identity for herself and makes contact with a former boyfriend, Danny. But the real threat to her relationship with partner Alex comes when she falls for his boss' husband. She did say she wanted a different life . . .