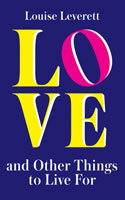 Love, and Other Things to Live For the debut novel by film-maker Louise Leverett, is an ode to modern girls and triumph over heartbreak.
The summary says: "Jessica Wood is an aspiring photographer living in London. She's had her heart broken, and her friends have pieced it back together again.
But across the neon lights of Soho, in the smell of alcohol and cigarette smoke, on every night bus, in every song, every time she tries to forget: she remembers him.
Now, in a battle between the past and the future, choosing between having a life and making a living, finding her feet or spreading her wings, Jessica must ask herself: who is she really living for?" Love, and Other Things to Live For is out in April 2019.
TEXT