LOUISE CANDLISH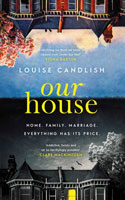 Our House (2018)
When Fi Lawson arrives home one January morning to find that a new family has moved in, she thinks there must be a mistake. Surely her husband wouldn't have sold their family home without her consent and without telling her. But as readers are taken back in time, we discover how Fi and Bram's marriage dissolved, how they decided to keep the house and live there alternately for the good of their children, and how a mistake caused a series of events that quickly spiralled out of control.
This story will grip you from the first to the last page. The narration switches between the present and the past and between Fi's story, which is told on a podcast for victims of crimes, and Bram's story which he writes on a Word document. There are many twists along the way that will keep you on the edge of your seat. A superb and captivating thriller about broken promises, broken marriages, and the lengths people will go to protect themselves. (NP)

---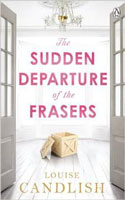 The Sudden Departure of the Frasers (2015)
Christy and Joe can't believe their luck when they purchase No. 40 Lime Park Road for a bargain price. The mortgage is a stretch for them but it's all worth it because this is their dream home. The previous owners, Amber and Jeremy Fraser, barely had time to enjoy the gorgeous renovations they oversaw before moving out suddenly. Christy wonders why – her new neighbours are certainly not welcoming and there is definitely tension between her reclusive next-door neighbour, journalist Rob, and the other residents. The story alternates between Christy and Amber's storylines, skilfully revealing what happened to make the Frasers disappear without leaving a forwarding address. It's an intriguing read which just kept getting better.

---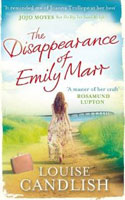 The Disappearance of Emily Marr (2013)
Tabby has arrived in a French coastal village, broken hearted and skint, with nowhere to stay for the night. After overhearing a woman's access code to her house, Tabby lets herself in. But the woman isn't heading off on holiday as Tabby suspected and instead returns to find Tabby asleep in a bed, like Goldilocks. Amazingly Emmie opens her house to the fellow Brit down on her luck and even finds her a job. But as time goes on Tabby begins to wonder what's up with the reclusive Emmie and starts investigating her background. With a slowly unravelling mystery told through parallel stories and a you'll-never-guess-it-in-a-fit twist, this gripping novel has such fascinating characters and masterful plotting, it will leave you musing long after you close the book. Just watch out for the abrupt ending.

---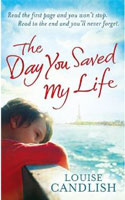 The Day You Saved My Life (2012)
Alexa and James are in Paris for their fifth wedding anniversary. She is on a mission to put the spark back in their marriage. Joanna has won a trip to Paris and takes along her daughter Holly and two-year-old grandson Mikey. She hopes the trip will spark something in Holly who is suffering from severe post-natal depression. When Mikey falls overboard during a river cruise along the Seine, James jumps overboard to save him. This courageous act has repercussions for them all. Past histories are revealed as relationships unravel and reform. This is another gripping page-turner from Candlish with dark undercurrents.

---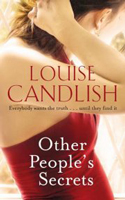 Other People's Secrets (2010)
Ginny and Adam have gone on holiday to Italy to help them deal with a personal tragedy. Staying in a boathouse on Lake Orta, their grief-stricken isolation is soon shaken by the arrival of a large family moving into the main villa. The head of a clothing label Marty Sale has brought his family - wife Bea and grown-up children Pippi, Dom and Esther - together at his wife's dream location. But he doesn't realise that Bea is seriously considering ending their marriage. When Pippi meets Zach, a backpacker, in town, he easily slips into their circle. But is he really just a drifter or did he have his sights set on their holiday property all along? This will appeal to readers who love a slow reveal of character connections - it's just a shame that they were all so predictable.

---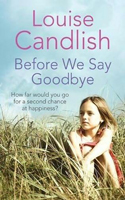 Before We Say Goodbye (2009)
Olivia never enjoyed a close relationship with her free-spirited mother. Not only did Maggie walk out on her family several times, Olivia also blames her for the demise of her relationship with her first love, Richie. Years later, one of Maggie's last acts before her death is to pass on Richie's address. Unable to resist seeing him again, Olivia heads to the seaside village of Millington, leaving her husband to cope for the weekend. But she soon settles into life with Richie and his young daughter Wren and finds herself unable to return to her previous existence. Will she do the unforgiveable and leave her two sons the way her mother left Olivia and her brother Dean? A moving - and sometimes disturbing - story of a mother's dilemma about whether she should put her own second chance at happiness ahead of her family.

---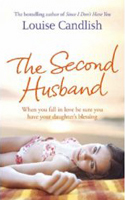 The Second Husband (2008)
When Kate Easton's ex-husband reduces his financial support, she divides her flat to allow a tenant to move in. And Davis Calder, a tutor, seems the ideal neighbour - he's charming, quiet and he even helps her 17-year-old daughter Roxy with her French lessons. Kate is so swept up by him that when Davis proposes, she accepts. But after their wedding, she finds a diary which reveals it's not her that he loves. Unfortunately the cover line of 'There are some things a mother and daughter should never share' gives away what should have been a powerful twist.

---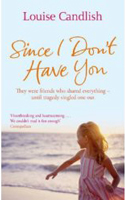 Since I Don't Have You (2007)
At the birth of their daughters, best friends Rachel, Mariel and Jenny vow to care for each other's girls if disaster strikes. And in a mother's worst nightmare, disaster does strike when the girls are six - Rachel's daughter Emma dies and she flees her home and husband and heads to Oia, on the Greek island of Santorini, where her mother was brought up. As Rachel slowly tries to deal with her grief, she realises she owes the girls left behind - and hires a private detective, Johnny Palmer, to send updates on their progress. A moving tale of a heartbroken woman finding the will to live after her greatest loss.

---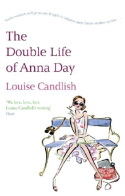 The Double Life of Anna Day (2006)
Anna Day's boyfriend, Charlie, won't introduce her to his highly cultured and recently widowed mother, Meredith. So when Charlie leaves for a study program in the US, Anna hatches a plan to meet Meredith and win her over. Swapping her black advertising industry clothing for Laura Ashley florals, and nights at the pub for art gallery openings and Sunday tennis, Anna moves in on Meredith's turf - but without telling her about her relationship with Charlie. Her ultimate goal is to score an invitation to her 60th birthday party, where she'll be introduced to her son as the ideal girlfriend.