LORRAINE BROWN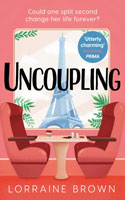 Uncoupling (2021)
aka The Paris Connection
Hannah and Si have just enjoyed a romantic getaway in Venice and are now on a train to Amsterdam for his sister's wedding. But during the night, the carriage that Hannah is on detaches and makes its way to Paris, while Si continues on to their destination.
Another passenger, Leo, who is heading to Amsterdam for a meeting, was also caught unawares on the wrong carriage. As a Paris local, he shows Hannah around his city while they wait for the next train.
This story sweeps you up in the atmosphere of the City of Love with lots of scenes tootling around on a motorbike and it reminded me of the movie Before Sunrise. It was an easy and enjoyable read, with the message that sometimes you have to veer off track to find your true direction. However, I was not a fan of how Hannah acted towards the end.

---