LIZZY DENT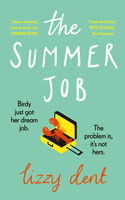 The Summer Job (2021)
Birdy's best friend, Heather, is throwing caution to the wind to take off to France with her boyfriend. This means that she won't be taking up a summer placement as sommelier at a far-flung Scottish hotel called Loch Dorn. With not much going right in her life, Birdy decides to turn up at the job pretending to be Heather.
As Birdy attempts to wing it as a wine expert and keep her real identity under wraps, she finds herself becoming attached to Loch Dorn – its landscape and its staff, particularly chef James.
With a main character full of personality, this is a fun story about wine bottles, banter and belonging. A refreshing and crisp read with hints of heady romance and a smooth finish.

---