LIZZY DENT
The Setup (2022)
Film school dropout Mara visits a fortune teller in Budapest, who tells her that she'll meet a tall man who works with his hands but first she has to fix something. After the fortune teller goes into labour and rushes out, another client enters so Mara pretends to be the clairvoyant.
Joe is tall, single and plays the cello in an Austrian orchestra. This must be the dream man the fortune teller was talking about! Reading his palms, she informs him that he'll meet an English girl called Mara at her local pub in August. Mara returns home to Broadgate, to her job as bookkeeper for the lido. She doesn't notice that her new flatmate Ash is also tall and works with his hands as a plasterer. Instead, Mara throws herself into her plans to revamp her life, getting ready for Joe's arrival. Will he show up?
This was a funny story about a girl trying to engineer fate but she must learn that she has to rely more on her gut instincts than her daily horoscope. I really enjoyed the side plot about the lido's struggles to survive and the interactions with her colleagues.

---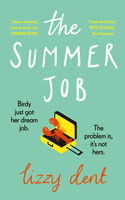 The Summer Job (2021)
Birdy's best friend, Heather, is throwing caution to the wind to take off to France with her boyfriend. This means that she won't be taking up a summer placement as sommelier at a far-flung Scottish hotel called Loch Dorn. With not much going right in her life, Birdy decides to turn up at the job pretending to be Heather.
As Birdy attempts to wing it as a wine expert and keep her real identity under wraps, she finds herself becoming attached to Loch Dorn – its landscape and its staff, particularly chef James.
With a main character full of personality, this is a fun story about wine bottles, banter and belonging. A refreshing and crisp read with hints of heady romance and a smooth finish.

---