LIZZIE DAMILOLA BLACKBURN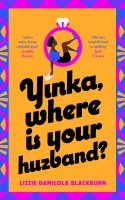 Yinka, Where Is Your Huzband? (2022)
With Nigerian heritage, 31-year-old Yinka has an Oxford degree and a good job at an investment bank. But with her sister having a baby and yet another cousin getting married, her mum and aunties want to know where her huzband at?
Setting herself a goal to bring a date to her cousin's wedding, Yinka accepts her aunties' setups, as well as signs up for online dating. But perhaps Yinka will need to find herself before she finds her husband.
Yinka was a delightful heroine and I really enjoyed being exposed to her life, her faith, her struggles and her culture. An awesome debut; I wonder if there may be a sequel in the works?

---