LISA DAILY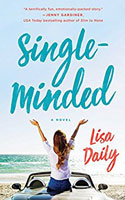 Single-Minded (2017)
Alex has been with her husband, Michael, since they were kids but she is blindsided when the ESPN sports commentator is outed after an affair with a college basketball player. When Michael admits he is gay, she tells him their marriage is over. Keen to find love again, she begins dating again, spurred on by her friends, political consultant Darcy and yoga studio owner Samantha, and even her ex.
This novel starts with a bang, as Alex weathers the fallout of her husband's scandal. I particularly enjoyed reading about her interesting job as an environmental psychologist and found her an engaging character. It's a humorous and entertaining read about an amicable separation and a new beginning.

---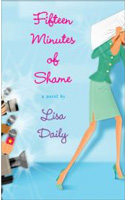 Fifteen Minutes of Shame (2008)
Dating expert Darcy Vaughn may have had her suspicions about her husband, Will. But she hardly expected that her appearance on the Today show to promote her latest book would turn into her most humiliating experience to date. Questioned about Will's reconciliation with his celebrity ex-wife, Gigi, Darcy is so shocked she responds by throwing up into the nearest floral display. How will her blossoming empire based on relationship advice survive her being dumped by a cheater? Dating tips are interspersed with the story of how Darcy resurrects her career - and her love life.