LIBBY HUBSCHER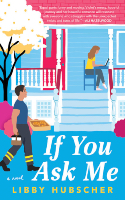 If You Ask Me (2022)
Violet is the anonymous writer of a popular newspaper advice column called Dear Sweetie. When she walks in on her husband Sam in bed with their fit neighbour Shelby, she dumps his cherished belongings on the front lawn and starts a bonfire. This brings firefighter Dez on to the scene, and from there on, he always seems to turn up when she needs help.
But still bitter from Sam's betrayal, Violet responds by penning some brutally honest responses in her advice column, which gets everyone talking. Is she about to torch her career too?
This was an interesting read about a woman who goes off the rails and I enjoyed the work-related side of the story. The quick rebound romance not so much, I mean Dez was everywhere – although perhaps that is how small towns work - and seemed a bit too good to be true.

---