LEAH MERCER
---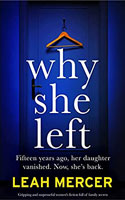 Why She Left (2021)
Left with nowhere else to go, Isobel returns to her childhood home for the first time in years, with the teenage son her mother doesn't even know exists.
Ruth, who is headmistress of their prestigious family-run private school, is delighted at her daughter's return and quickly forms a bond with her grandson Isaac. But the detente doesn't last for long as being back home doesn't prove to be a safe haven at all.
While not entirely unpredictable, the story still had me engrossed waiting for all the simmering resentments and shocking secrets to come to a head. And for Ruth to find out why she left and the instrumental role she had to play in the ensuing events.

---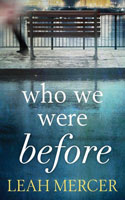 Who We Were Before (2016)
Zoe and Edward's young son, Milo, died in a tragic accident. Zoe blames herself, and their marriage continues to suffer two years later. Heading to Paris for their anniversary, the pair get separated at the train station. Zoe's wallet and phone are stolen and she can't remember the name of their hotel. Will they find their way back to one another – both in Paris and in their relationship too?
This is a clever story, as circumstances keep the couple apart over the weekend. Their back story is weaved into the narrative, allowing us to see how they met, what life was like before their son's death and the manifestations of grief.