LAUREN FORSYTHE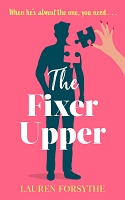 The Fixer Upper (2022)
Aly is known for fixing things – from her colleagues' work problems to her parents' tumultuous relationship. She also realises that over the years she has been improving her boyfriends' lives too, assisting them to become more accomplished and better partner material.
Meanwhile, she's still single and waiting to be promoted to head of marketing.
With colleagues Tola and Eric, she starts an undercover service for women who are fed up providing all that emotional coaching to their partners. They work on the men to help them become better parents, to bite the bullet and propose, to progress their careers …
Then a celebrity influencer Nicki hires them to turn her app developer boyfriend into a successful tech entrepreneur and propose to her - all within the next month. Only problem: Dylan is Aly's former best friend and crush.
This debut displays a fresh and breezy writing style, with a feminist edge. Interested to see what the author does next.

---