LAURA ZIGMAN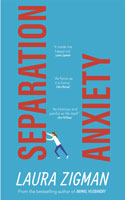 Separation Anxiety (2020)
Writer Judy is having a hard time in life. She and husband Gary are separated but can't afford to divorce and live apart. They haven't told their son Teddy yet either. Judy also feels her success peaked early after her popular children's book seems to be a one-hit wonder. And her best friend is dying of cancer.
Affected by anxiety and deflated by disappointment, one day Judy puts their dog in a baby sling and finds she can't stop the comforting habit.
It's been more than a decade since Laura Zigman's last novel so it was good to see her back with this tale of midlife woes. Judy is a quirky character who stumbles through life hoping the second half will improve but I found her overly anxious state hard to relate to.

---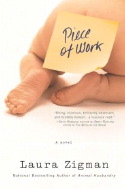 Piece of Work (2006)
Julia Einstein may have to answer to a demanding, insatiably needy person, but her three-year-old son is still the best boss she's ever had. But when her husband Peter is laid off, she has to return to the world of celebrity PR - and this time she only manages to get work at a B-grade agency, which specialises in has-been comebacks. With Peter fitting into her role at home so much better than she did, Julia knows that she has to make the perfume launch of former screen diva Mary Ford a success, even though the perfume - and the client - stink.

---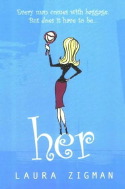 Her (2002)
Freelance book editor Elise is engaged to high school teacher Donald, who she met on a plane from New York to Washington. The only baggage he has, however, is a dog, an obsession with his weight - and a former fiancee named Adrienne. When Adrienne announces she too is moving to Washington, Elise finds herself snooping through Donald's stuff to see if he still has feelings for his ex. As the gorgeous Adrienne rocks into town, ingratiating herself into their lives, Elise grows increasingly paranoid and starts stalking her nemesis. This is a funny study of what happens when irrational jealousy rears its head.

---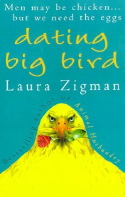 Dating Big Bird (1999)
Ellen, 35, is infatuated with her young niece Nicole (aka the Pickle) and all of a sudden her biological clock starts ticking. Trouble is her boyfriend Malcolm is still reeling from the death of his young son. And can't even face having sex. Ellen meets up with Amy, a former high school classmate, and discovers that she too is desperate to have a baby. So they give themselves a deadline to work out if they are willing to go ahead with their baby plans on their own.