LAURA JANE WILLIAMS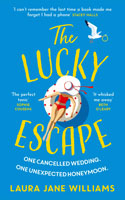 The Lucky Escape (2021)
Annie is left reeling after her groom does a no-show at the church. When his parents encourage her to go on the all-expenses-paid honeymoon to Australia herself, she is at first reluctant.
But then she decides to seize the day after meeting up with a guy she once knew from drama camp – someone who remembers her much bolder self. This renewed friendship with Patrick sees him tagging along Down Under too.
I enjoyed this story about a woman who realises she has lost herself along the way. It was really easy to jump straight into Annie's life with her, as she came to terms with being jilted and found herself in a new intoxicating relationship.
However, I felt the story lost its way after the 'honeymoon' and I had stopped rooting for Patrick by the end. Also having done the trip down south to Margaret River many times, I was a tad confused about the description of all their coastal views during their chauffeured drive from the airport.

---