KYLIE ORR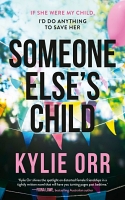 Someone Else's Child (2022)
Community service worker Ren has always lived in a small town and has an incredibly close relationship with her childhood friend Jez, his wife Anna and their daughter Lottie. The eight-year-old has a terminal brain tumour and her only hope is an expensive clinical trial in Germany.
So Ren jumps on board to rally the local community in a big fundraising drive, while Anna takes the tragic story to the national media. After all, a mother would go to any lengths to save their child, right? But after some discrepancies arise, Ren begins to wonder how well she knows Anna.
With a side thread about the sad state of respite care availability, this was a compelling debut about loyalty, hope and deception, and would make for a great book club selection.

---