KYLA ZHAO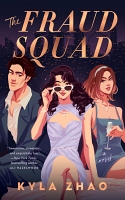 The Fraud Squad (2023)
Samantha Song has always been fascinated by socialites and dreams of writing for a high-society magazine.
But Sam hasn't come from a glamorous background - her mother toils at a nail salon after her father died, leaving them in debt.
Then Anya, her socialite co-worker at a PR firm, introduces her to Timothy, from an elite Singaporean family, and the pair agree to help Sam make a splash on the social scene.
Borrowing designer clothes from Anya and using Timothy's connections, her aim is to garner an invite to the event of the year, the S Gala, where she can catch the eye of magazine editor Missy.
With an eye-catching cover, this was a cute read about faking it from a fresh new talent.