KIRSTIN CHEN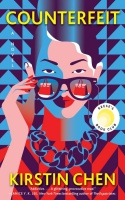 Counterfeit (2022)
Ava is taking a break from her law career to stay at home with her handful of a toddler, Henri. Her former college roommate Winnie – who left Stanford under a cloud - gets in touch out of the blue to secure a kidney transplant for a Chinese friend from Ava's surgeon husband, Oli.
Soon Ava is lured into Winnie's web and joins her counterfeit luxury handbag operation. But when Winnie disappears, Ava's left to explain matters to a detective.
This was a short and entertaining read, with delightfully unreliable narrators and a master scam. However, the dreaded lack of quote marks pops up again.

---