KIMBERLEY ALLSOPP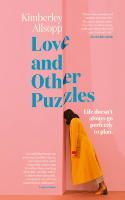 Love and Other Puzzles (2022)
Rory works as a journalist but she hasn't ever done any reporting. Instead, she looks after the classifieds and creates the weekly TV crossword.
With her relationship with artist boyfriend Lucas on the ropes and feeling lost about life in general, the rom-com fan and crossword aficionado decides to let the New York Times crossword clues guide her decisions.
This leads Rory to an art gallery event where she meets an interesting guy called Harry and propels her to chase an interview with elusive newsreader Elle Chambers.
This quirky story had its high points - from the crossword experiment to Rory's witty interactions with Harry and on the trail of Elle - but overall I found it a disjointed reading experience.

---