KEVIN KWAN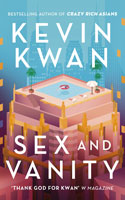 Sex and Vanity (2020)
Nineteen-year-old Lucie heads to Capri for a lavish society wedding, accompanied by her older cousin, Charlotte. Charlotte is complaining about the lack of a sea view from their hotel room when a flamboyant Chinese lady, Rosemary Zao, offers to swap rooms. Lucie can't help but notice her son George and the pair continue to run into one another for the duration of their stay, until one final humiliating experience.
The story then picks up five years later, when Lucie gets engaged to one of America's most eligible bachelors in billionaire heir Cecil.
This modern adaptation of E. M. Forster's A Room With a View is an amusing tale about a young woman caught between her Asian heritage and her late father's WASP relatives. Written with a scandalously gossipy tone, it offers a satirical glimpse into how over-the-top rich people live.

---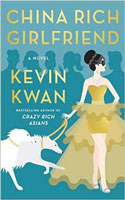 China Rich Girlfriend (2015)
In this much-anticipated sequel to Crazy Rich Asians, three of Asia's wealthiest families are back to show us a world of exclusive clubs, backbiting family drama, and shopping sprees that'll make your head spin. Though the story has several complex subplots and huge cast of characters, it mainly focuses on Nick Young: a Singapore aristocrat who chooses to marry Rachel, an American with no money or pedigreed blood lines (i.e. a nobody, according to Nick's mum and grandma).
Set in Singapore, Hong Kong, London, Paris, and LA, this exciting and often humorous book will give you an inside look at how Asia's jet-set billionaires think and spend their time.
There are a LOT of characters, and it can be difficult to remember who is who. Fortunately, I had read the first book (which had a helpful family genealogy chart in front) and could remember some of the characters, and how they were related.
The first three-quarters of the book were fantastic, but the last part seemed to wrap up too quickly, and the dialogue often felt forced (especially between Rachel and Carlton). If you enjoyed the first book, it's worth reading this one to find out what happens to everyone. (CK)

---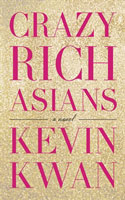 Crazy Rich Asians (2013)
Rachel Chu and Nick Young have been dating for two years when Nick asks Rachel to go to Singapore with him for his best friend's wedding. Though they've been solid for quite some time, Rachel hasn't met any of Nick's family outside of his cousin, Astrid, so going home with him is a big step in their relationship.
What she doesn't realise, however, is that Nick's best friend is having the wedding of the year, celebrated by every gossip rag and talked about by every society matron in Singapore. She also doesn't realise that Nick's family is super rich, like crazy, insanely, monstrously rich, until she gets to the tropical country and sees the extravagance for herself.
From the private jets ready at a moment's notice to the priceless art lining Nick's Ah Ma's (grandmother's) estate, Rachel is thrust into a world of luxury that she never even knew actually existed. But when she's accused of being a gold-digger who is dating Nick only for his extensive fortune, can she handle the heat or should she just go back to New York alone?
This is a fun novel that looks at the insane way these super-rich Asian families live. Though it was consistently OTT, there's no doubt that people out there actually do live this way, as hard as it is to believe. There were a lot of characters - at times too many to remember - but that's what the family tree at the front of the book was for. Besides one scene in Macau involving dogs, which left me a little nauseous, this story is really entertaining and gives a glimpse into a society that is so wealthy one couldn't even imagine. It's a must-read for anyone who craves that extra layer of indulgence and excitement. (AS)