KERRY REA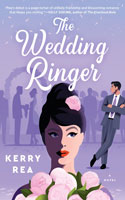 The Wedding Ringer (2021)
Willa was a popular blogger and journalist until she discovered her fiance and best friend in bed together. With her wedding cancelled, she retreated to her sister's house where she has been hiding out since, that is when she's not donning a flamingo-pink ballgown to appear as Princess Sparkleheart at kids' parties.
One day, at a local cafe, she comes across Maisie, who's desperate for her to pretend to be her friend in front of her own fiance, Finn. And this leads to her being paid to be her bridesmaid.
With an awesome cast of characters – from the sweet bride-to-be to the sweep-you-off-your-feet groomsman Liam, this was a wonderfully heartwarming debut about friendship, weddings and bouncing back.

---