KELLI HAWKINS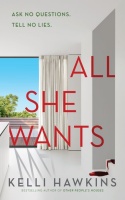 All She Wants (2022)
All kindy teacher Lindsay has ever wanted is a baby but her partner was reluctant. When he leaves her for another woman, Lindsay thinks her mothering dreams are over. But then she meets Natalie, a private investigator who introduces her to brother Jack.
As their relationship goes from strength to strength, the narrative also backtracks to a tale of two neglected siblings growing up in England.
This was full of page-turning suspense about why Natalie is so protective of her younger brother but there was bit too much foreshadowing – lots of chills, shudders and shivers, and pointing out the obvious – instead of trusting the reader to pick up on the clues.

---