KELLIE McCOURT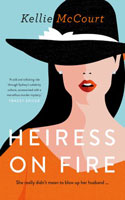 Heiress on Fire (2021)
Heiress Indigo is in trouble with the police after she admits accidentally killing her plastic surgeon husband and another guest during a cocktail party at their Sydney penthouse.
After the police reveal there was a bomb, Indigo – who has a tendency to faint - starts investigating to clear her name. This takes her and her new sidekick, personal assistant Esmerelda who has had her own run-ins with the law, into the world of escorts, bikies and illicit schemes.
This debut novel is one hilarious madcap adventure. Perhaps a bit too madcap for me. One for Stephanie Plum fans.

---