KATIE PRICE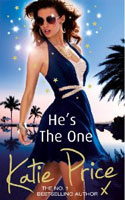 He's The One (2013)
The story is told in two halves. In the first half, Katie introduces the reader to Liberty, a single mother to daughter Brooke. Liberty is dating Cory, the man she loves. However, when Liberty is offered the chance to work in Los Angeles as a successful actress she has to leave Cory behind. Fast forward fourteen years and we learn that life is not all that perfect in LA for Liberty. Brooke is a stroppy teenager and the man she married controls every part of her life. Deciding this life is not for her anymore, she decides to move back to England with her daughter. She begins searching for her childhood sweetheart Cory, in the hope of rekindling their relationship. But is it too late for Liberty, has he moved on?
This book is a great summer read, with an engrossing storyline. The characters were all entertaining, although it was very hard to like Brooke. (SG)

---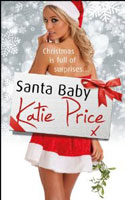 Santa Baby (2011)
Angel Summer and her husband, Cal, are fairly happy. They have one beautiful child and would like to have another in the near future. But that idea is put on the back burner when Angel meets her half-sister, Tiffany, and the two gel together like glue. Tiffany soon lands a job on Angel's TV show, which works out well for both girls. However, Angel's bodyguard, Sean, isn't so welcoming to Tiffany since it's his job to be protective of Angel at all times. When he finally feels like he can let his guard down - at a Christmas party at Angel's home - danger strikes. Will Angel, Cal and Tiffany be alright or will Sean's misstep haunt them all forever?
This is one of those guilty pleasures that you can't quite decide if you love or hate. Some parts are really well written, while others aren't. It is, however, addictive and will leave you wanting to know what happens next to Katie Price's most famous characters. (AS)

---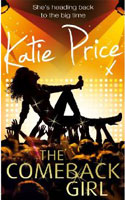 The Comeback Girl (2011)
Eden's successful career as a pop star went off the rails after she repeatedly showed up late or not prepared. After not being there for her own mother's death, Eden falls off the radar and needs to work hard to get her career back on track. The only problem is she'd rather shop (above her budget) than go to meetings or into the studio. Enter Jack Steele, a scruffy yet sexy songwriter who is supposed to help Eden get to the top again. But Eden finds him infuriating. When she is asked to be a judge on the reality singing show Band Ambition (for Katie Price readers that's the competition singer Crystal was involved in), she jumps at the chance and even though getting involved with a contestant is completely wrong, Eden can't help but fall for Stevie. She's so smitten that she believes he is "The One", but is he really the right man for her?
With a glittering pop princess as the main character and a great set of supporting characters, this novel is a must-read for any celebrity-addict. This is the first time I have read a Katie Price book. For a celebrity novel - admittedly written by a ghostwriter - it actually surpassed my expectations by hooking me in. (AS)

---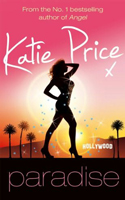 Paradise (2010)
In this third book in the Angel series, the English glamour model is settling into life in LA with new boyfriend Ethan. But she is wondering if she's made the right choice, picking the pro baseball player over husband Cal, a former soccer player and father to her daughter Honey. For much of the next 300+ pages, Angel dithers over which man with the abs she should be with. Throw in an engagement, a surprise baby, a reality TV show, a family illness and a Single White Female situation and you've pretty much got the gist.
As much as I found Price's other novels entertaining, this one is excruciating (particularly as it was so easy to visualise the characters as Katie, Alex Reid and Peter Andre). The endless love triangle musings really had me wondering if there's any more juice left to be squeezed out of this very profitable series. (For regular Price readers, watch out for a cameo appearance by Sapphire.)

---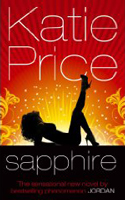 Sapphire (2009)
Sapphire is happy to be an independent businesswoman - she runs a lingerie boutique and hens weekend company. Divorced from the philandering Alfie, she doesn't want another serious relationship and is dating younger personal trainer Jay. But with Jay wanting to settle down, Sapphire's eye is drawn to Alfie's smooth business partner, Ryan. When a hens weekend for a soapie star goes awry, Sapphire begins to lose control of her business and personal life. Watch out for appearances by her friend Cal, the footballer from Price's novels about glamour model Angel.

---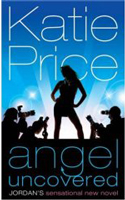 Angel Uncovered (2008)
This sequel to Angel sees the glamour model struggle with a life that is far from perfect as it appears on the outside. Angel has to cope with both post-natal depression after the birth of daughter Honey and a move to Milan to follow her footballer husband Cal. With Angel and Cal growing further apart, the temptation of infidelity arises. This has lots of tabloid scandals and plot twists that makes it very readable. (AB)

---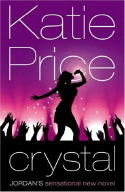 Crystal (2007)
Crystal is hoping a reality TV band competition will launch her singing career. Paired with her best friend, Tahlia, and bitchy upstart Belle, the Lost Angels begin to soar in the audience polling. But when Crystal falls for Belle's boyfriend, Max, their illicit relationship could spell the end for the band. And the tabloids haven't even begun spilling all the band members' secrets yet.
Watch out for the guest appearance from one of Price's other characters, glamour model Angel, who shares the same hairdresser. For those who want a juicy plot without having to think too hard. And the biggest surprise - the heroine isn't big-busted!

---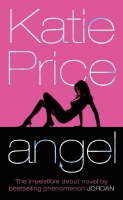 Angel (2006)
Angel gets drawn into the glitzy world of celebrity fame and riches after becoming a Page 3 glamour model. She meets boy band singer Mickey but with their relationship clouded by infidelity and drug-taking, Angel discovers a rising star can fall just as quickly. Written by glamour model Jordan, who is married to singer Peter Andre.