KATIE McMAHON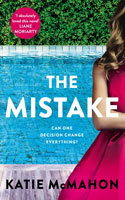 The Mistake (2021)
Bec is throwing her surgeon husband Stuart a big 40th bash. Little does she realise that her meeting with the night's entertainment, fire-eater Ryan, is about to change her life and that Stuart's job will soon be on the line.
Bec's sister, Kate, used to be a model but after losing her arm now works in academia. She makes Bec think she sees a lot of men but in reality Adam, the new guy she is seeing, is the first guy she's slept with in ages.
Although the beginning starts a bit disjointedly, this debut novel becomes a captivating read as the tension is ramped up. Since making a mistake applies to a number of the characters, it makes for a great selection for a robust book club discussion.

---