KATHY LETTE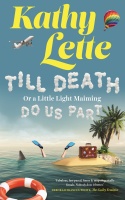 Till Death or a Little Light Maiming Do Us Part (2022)
When geography teacher Gwen hears a news report about a shark attack, she rushes to the beach to find that her husband Jason is missing and all that is left is his ripped swimming cap, flipper and a piece of his wetsuit.
But then another woman roars up on a motorcycle, wailing about her missing husband. And that's how Gwen finds out that her late husband is a bigamist and was also married to the brash Tish.
Hearing that Jason had recently wired a large sum to a business partner in Egypt, the two women join forces to follow the money. And what they find leads them on a madcap chase around the globe.
If you are a fan of Lette's trademark quick quips and an absurdly hilarious plot, buckle up for one hell of a journey.

---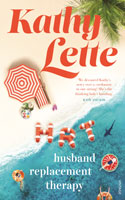 Husband Replacement Therapy (2020)
Ruby's got nothing to lose at her fiftieth birthday party so she lets fly at the people in her life, including her cheating husband, her poisonous mother and her bickering sisters Emerald and Amber. She ends her speech with the revelation that she has terminal cancer and plans to treat herself and her sisters to a Pacific cruise.
And so the women find themselves on a cruise with oodles of young, hot men at their disposal.
In some of her previous books, Lette overcooked the puns but this time, she's got it just right. It's an amusing tale about lust on the high seas for the menopausal set.

---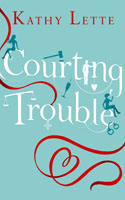 Courting Trouble (2014)
Barrister Tilly is unceremoniously dumped from her law chambers, then discovers her psychiatrist husband in bed with another woman. So she reluctantly joins forces with her mother Roxy, a firebrand solicitor, to champion the causes of wronged women. They take on the case of Phyllis, who is charged with attempted murder for taking justice into her own hands after her granddaughter was raped on their rough estate.
With the pressure mounting on the women to drop the case, Tilly also has to face off against prosecutor Jack, the guy who broke her heart during her Oxford days.
Although Kathy Lette's usual quick-fire and snarky wit is present, the storyline is a lot more serious than expected. The legal and social aspects of Phyllis' case were emotional and engrossing - the standout element of the book. Read it for the legal drama, as Tilly's entanglements certainly didn't present much of a convincing case on the romantic front.

---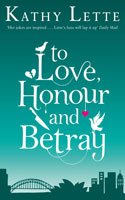 To Love, Honour and Betray (2008)
Lucy's husband, Jasper, has recently left her - not long after they emigrated to Australia - and she's not coping particularly well. And it seems there's more to Jasper's midlife crisis than she first thought - she needs to be careful who she trusts.
Meanwhile, with her teenage daughter, Tally, blaming her for everything and youngest daughter, Ruby, throwing herself into their new beachy life, Lucy somehow finds herself training for a surf lifesaving certificate. And it seems she may be set to throw herself back into the dating pool too, with Lockie, the surf lifesaving instructor, piquing her interest and English traveller Sebastian, a certified toy boy, refusing to take no for an answer.
This is a very funny story with an overly honest, self-deprecating narrator.

---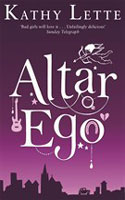 Altar Ego (1998)
The guests are arriving at Becky's wedding but she is dangling out of the window, wondering if she can make a break for it. She loves Julian, a human rights lawyer, but the thought of being tied down is just too much. Then temptation arrives, in the form of the much younger rap singer Zack.
Lette is the mistress of puns and quips, and her work is riddled with one crude, politically incorrect wisecrack after another. Some readers will find her writing hilarious, others will find it all too tedious. For those who like a heroine with some redeeming characters, Becky isn't for you.