KATHRYN WALLACE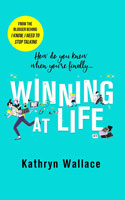 Winning at Life (2020)
In this continuation from Absolutely Smashing It, Gemma has her plate full - working, being a single mum to her two kids Ava and Sam, and dating Tom, a teacher at their school. Meanwhile her friend Becky finds out she's pregnant again.
The two women are reluctantly signed up to the fundraising committee run by alpha-mummy Vivienne but can they raise enough to save the school after an arson attack?
This sequel has plenty of laughs, with the football-mad, plain-talking Ava as the true star of the show.

---