KATHLEEN WHYMAN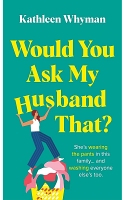 Would You Ask My Husband That? (2023)
When Will loses his job after a silly mistake, his wife, Sarah, who works at the same marketing company, is invited to step into his shoes. With Will now taking over on the home front with their two children, Sarah's thinking that this is finally her chance to achieve her career goals.
But her husband is not as organised – or willing – at keeping on top of domestic matters, he's become perhaps too close to one of the other schoolmums, and her new work team don't seem to like her.
This was a delightful and witty read about a reversal of roles, told from alternating viewpoints. It shines a light on the unequal division of labour for working parents and how the motherload barely lightens, even with the man at home. I also enjoyed the way the background scheming was evident to all but the characters.