KATHARINE POLLOCK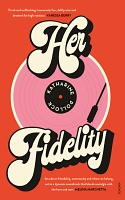 Her Fidelity (2022)
Kathy has worked in an indie record store since she was a teenager. Apart from her friend Mel in the office, all the other employees – and most of the customers - are guys, and Kathy has to deal with sexist comments and inappropriate behaviour on the daily.
Now about to turn 30 and still basically living with her parents, Kathy is beginning to realise it may be time to take stock of her life.
With its quirky and sarcastic humour and insane music knowledge, this was a great Aussie read which scored extra points for making me laugh out loud several times at some of the pop culture nostalgia and wordplay.
But unfortunately, it also joined that ever-increasing 'no quotation marks for dialogue' club. Seriously, is it too much to ask for speech marks?