KAREN SWAN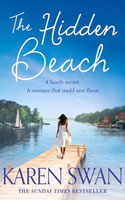 The Hidden Beach (2020)
Bell enjoys working as the nanny for a Swedish family. One day she picks up a phone call that reveals her boss Hanna's husband has woken from a coma. Bell is confused because she only saw Hanna's husband, Max, moments earlier. It is then revealed that Hanna's real husband and father to oldest son Linus had been in a coma for seven years after a car accident.
This story starts with an intriguing premise and continues with a foreboding air as the family heads to a summer holiday island. Read it for a touch of mystery and romance in an idyllic setting.

---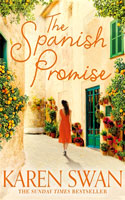 The Spanish Promise (2019)
Wealth counsellor Charlotte is getting married next week but a client, an heir of the Mendoza estate, needs her in Madrid to track down the woman that his dying father wants to leave a fortune to. As Charlotte meets waitress Marina and tries to figure out the puzzling connection, she also has to deal with an unhappy fiance and runs into a blast from her past.
Meanwhile back in 1930s Spain, Nene Mendoza is caught up in the unrest leading to the Civil War that tears apart her family.
This novel offers a fascinating look into an horrific time in Spain's history. The mystery of how Marina fits into the Mendozas' lives and what happened to Nene become page-turning narratives. The contemporary story around Charlotte and her love life was less so.

---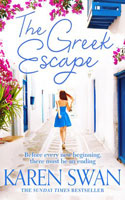 The Greek Escape (2018)
After having her heart broken in London, Chloe Marston is more than ready for a fresh start in New York City. Her job at a prestigious concierge firm that caters to some of the world's wealthiest people keeps her mind off Tom, the man who caused her so much pain. That is, until he shows up in Manhattan and tries to win her back.
Unsure of her feelings for Tom, Chloe jumps at the chance to head to Greece with one of her clients to help him find a secluded home. Handsome and mysterious Joe Lincoln is hard to resist, but when suspicions arise surrounding the death of a client's wife, Chloe begins to question Joe's motives.
The Greek Escape is full of intrigue and glamour that draw in the reader and will not disappoint Karen Swan fans. The romance, drama, and twists and turns will definitely keep you turning the page! (LB)

---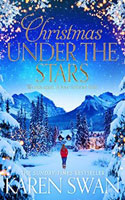 Christmas Under the Stars (2016)
Meg lives in the Rocky Mountains of Canada in an isolated cabin. When tourists' lives are threatened in an avalanche, fiance Mitch doesn't hesitate to help. When he doesn't return, a desperate Meg radios an astronaut at the International Space Station, who alerts search and rescue. As Meg tries to forge a life without Mitch, she befriends the astronaut and just when you think this is Meg's story of triumphing over tragedy, the book takes a sinister turn and Swan delivers a twist.
Usually a fan of this author, this novel was too long, too wordy and just has way too much going on. The descriptions of the Banff setting were done really well though. (LF)

---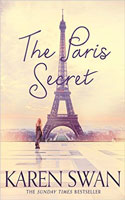 The Paris Secret (2016)
Flora is a fine arts agent living in London - she loves her job and the hustle of the art world. But her personal life comes crashing down when her brother is charged with a serious criminal offence. In the midst of her trauma, prestigious French clients learn of an abandoned apartment full of paintings and sculptures. Flora is flown over to secure the lucrative commission from the sale of these famous paintings. But what transpires is a mystery darker than imagined.
The owners of the secret apartment, the Vermeil family, are famous French glamour and part of the package are the rascal jet-setting children, including dashing Xavier. Getting involved in this family causes Flora nothing but trouble. Xavier is not all he seems: he's irresistible but they have insurmountable obstacles in their path, including her brother's alleged crime.
With the combination of mystery, love and being set in France, it all works to make a great read. (LF)

---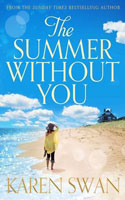 The Summer Without You (2014)
Rowena "Ro" Tipton wants to make her mark on America but being on her own in New York for a whole summer isn't exactly how she planned on doing it. However, that's what she finds herself doing when her longtime boyfriend, Matt, proposes the idea that they take a "pause" before they settle down for good. He's gone off for six months to Asia and now, as a result, Ro has found herself hanging out in the Hamptons and setting up her photography shop among the luxury stores.
What starts out as a need for adventure quickly turns into something more when Ro makes real friends with her housemates and an older woman on the town board. Her business is flourishing and she is enjoying herself - more than she has in the past 11 years with Matt.
But things in the Hamptons are not at all what they seem. When Ro is attacked and her friend is almost murdered, she has to decide if it's really worth it to stay. Has this one summer changed Ro or will she always be a part of Matt's shadow?
This is a lovely story that weaves together romance and mystery without giving anything away until the very end. It's a definite for any summer beach bag - whether you're in the Hamptons or not! (AS)

---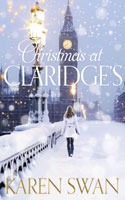 Christmas At Claridge's
Clem Alderton is one of Notting Hill's most prestigious party girls. She's gained a reputation over the years for drinking too much, being too easy and then doing it all over again the next day. She's also the girl every woman wants to be and every man wants to be with. She's gorgeous and seems to have it all, yet she can't let the past go.
So, one night when she takes her reckless behaviour a little too far, her pristine world of partying and forgetting it all is over. Suddenly, her beloved brother hates her and she's in danger of losing her home and job.
In comes a handsome stranger, nicknamed "The Swimmer" for his broad shoulders, who appears at the most unexpected places and does things to Clem that no man ever has. When he offers her brother the chance to save his business he jumps at it. The only condition is that Clem must go back to the one place she never wants to return to again: Portofino in Italy. Will Clem risk losing her brother's love forever just because she can't bear to face what happened ten years ago? Or will she take the opportunity to do what she should have done years ago?
This is a wonderful story, very powerful and well written. While "The Swimmer" appears stalker-ish and possessive at first, there's no doubt that he is what Clem needs - at least for a little while. It's obvious that Karen Swan has a background in fashion as the detail put into the clothing and styles of the characters is so detailed and exquisite. The ending will definitely shock you, but it's also an ending that will make you smile and feel good. (AS)

---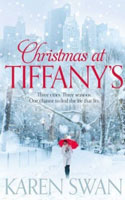 Christmas at Tiffany's (2011)
Cassie married at a young age, thinking she found "The One", but 10 years later all she has found is heartbreak, betrayal and loss. To help her get her life back on track her three best friends, Kelly, Anouk and Suzy, hatch a plan for Cassie to live with each of them in the most glamorous cities in the world for four months each.
Starting out in New York with Kelly, then Paris with Anouk and finally London with Suzy, Cassie is forced to leave the old her behind and reinvent herself in new and challenging ways. While at it, she finds love once again, discovers her passion and notices a new woman blossoming after years of being stuck in a home alone most days.
But, all things great don't last for Cassie as she sees her new love lost and her newfound passion dissipated after a horrible tragedy. It's only the lists made by Suzy's brother, Henry, that get Cassie through the turmoil and help her find her way. But will she find what she truly wants before the year is up or has she let it slip through her fingers once again?
Karen Swan did an amazing job with this novel. It's wonderful to see Cassie's transformation from a fragile young girl to a worldly sophisticated woman throughout the course of a year. The storyline is spot on and everything that happens seems to be related to something else, giving the reader clues as to what's to come without being too forward. It's chick lit at its most brilliant and it will leave you wanting to spend Christmas at Tiffany's ... or at least curled up in front of a fire with this beautifully written novel. (AS)

---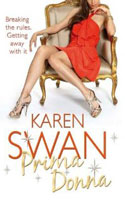 Prima Donna (2011)
Pia Soto is a glamorous ballerina who believes she is the best dancer in the world and she displays her arrogant attitude to anyone who meets her. She came from nothing and is very proud of the empire she has created. And usually her assistant Sophie is on hand to do everything for her. One day Pia gets into a freak accident that causes her to have to rely on a man, Will Silk, who she knows little about. Is her illustrious career about to be cut short or will this incident cause her to reassess her whole life - and attitude?
Full of diva behaviour and behind-the-scene looks at the gruelling ballet world, this is perhaps "tutu" good to miss! (CG)

---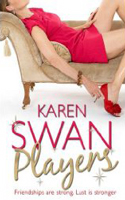 Players (2010)
Harry Hunter is the new golden boy of the literary scene and an irrepressible playboy. With his books selling by the millions, the paparazzi on his tail, and a different woman every night, for Harry, the world is his oyster. Best friends Tor, Cress and Kate have stuck together through everything - marriages, raising children and high-flying careers. But it soon becomes every woman for themselves as each get involved in Harry's life. Will lust and a charming heartbreaker spell the end of years of friendship?
It's like Sex and The City set in the glamorous heart of London, with a Jilly Cooper flavour. (PP)