JULIE MAYHEW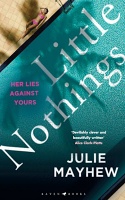 Little Nothings (2022)
Liv has always had trouble making friends, until she meets Beth and Binnie at their kids' music classes. The families now socialise often, even planning a three-week trip to Corfu.
But then another woman, Ange, is introduced into the group, and Liv feels like she's on the outer again. With her family barely affording the Greek holiday and Ange stealing the spotlight yet again, things begin to take a dramatic turn.
With its wry observations of female friendship, this psychological drama focuses on fitting in, competitiveness and jealousy. It was a compelling ride, all the way to its gut-wrenching finale.

---