JOSEPHINE MOON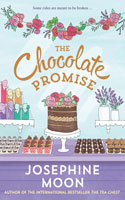 The Chocolate Promise (2015)
aka The Chocolate Apothecary
Christmas Livingstone has a content life running a scrumptious chocolate store in a Tasmanian village. She lives her passion, has plenty of loyal friends and donates her time fulfilling wishes for people often down on their luck.
But one of her 10 rules for happiness - no romantic relationships - is about to be put to the test when botanist Lincoln arrives back in Australia. He seems utterly perfect - always looking out for his grandmother in her nursing home and even adopting a stray dog. As the pair begin working on a book about cacao together, they have to decide whether they are willing to change. Is Lincoln ready to settle down and does Christmas need to drop that one rule of happiness?
As the title suggests, this is a lovely sweet read. I just wish one of Christmas' rules was to change her name - it threw me several times making me wonder why the festive season was being referred to all of sudden.

---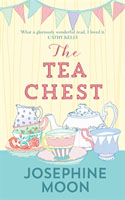 The Tea Chest (2014)
Kate Fullerton has been working at the Tea Chest for several years, designing and selling new and exciting tea blends; a job she absolutely loves. When her mentor Simone unexpectedly dies, she leaves her part of the Tea Chest, making her the new co-owner of the Australian chain. Simone always kept herself busy with the business side of things, now it's Kate's turn to give it a try, especially as they are opening their first-ever UK store in London.
Her husband, Mark, is supportive and will take care of their two young sons, while Kate flies to the other side of the world. In London, she meets Leila, who has just lost her job and is looking for a new challenge, and Elizabeth, who has been betrayed by her husband, and her younger sister Victoria. Together the women aim to do everything they can to make the London store a success but it quickly becomes apparent it is no easy road to success...
The storyline is simply wonderful. I'm a big tea drinker, and I really loved Kate's passion for tea, making new blends, and the amazing ways in which the different stores were described. If the Tea Chest really existed, I'd definitely be a regular customer! There's definitely more to this book than just the descriptions of a lovely tea shop, though. The story is told from the perspectives of several women, each of them dealing with their own issues.
The book focuses mainly on relationships: the relationship between husband and wife, the relationship between sisters, the relationship between friends/colleagues. The different storylines really complemented one another and I didn't get bored with any of it for even a second. Josephine Moon has managed to inject a lovely personal touch and I really enjoyed her writing style. The Tea Chest is a wonderful, well-written, light read about love, friendship, and lots and lots of tea! (JoH)