JO REES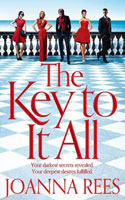 The Key to It All (2014)
In Brazil, teacher Julia Pires wants to help give hope and aspiration to her class of impoverished students despite having little herself. Christian Erickson is a doctor working in turbulent central Somalia, witness to the brutality of humanity every day. Meanwhile, aspiring actress Scooter Black isn't making any headway into her career and is getting pushed to the bottom of the pile. Fed up with the daily grind in Japan, Kamiko loses herself in video games. Meanwhile in London, city banker Harry Cassidy has missed out on a huge trade and all seems lost. Each of these five people, however, are going to have their worlds turned upside down when they receive a mysterious key that promises them whatever they desire. Is the key a hoax, is it a game or is it really the means to a better life? What will they ask of the key? And who is the unknown benefactor? The blurb for this book gives little away so I was intrigued to finally read it and it's certainly as enigmatic as the blurb suggests. An interesting mix of mystery, suspense, glamour and drama, the book weaves together the stories of each of the characters, finally uncovering the mystery behind the keys. The range of settings, contexts and narratives is wonderful, from the glitz of Cannes to the favelas of Rio, and each character is acutely drawn. The ending was wrapped up too quickly for my liking and the book has a really individual tenor and mode that makes it hard to pin down and won't be to everyone's taste. Chick lit and romance this is not, but if you're after something different to read, this book certainly gives you that. (JC)

---
A Twist of Fate (2012)
Two baby sisters are handed to a stranger, and one gets to live a life of privilege in America while the other is raised in an East German orphanage. Despite their disparate upbringings, both girls face adversity through the years. Thea, the daughter of a media mogul, has to deal with a stepmother and stepbrother who don't have her best interests at heart. Meanwhile model Romy is desperate that no one finds out about her past. The womens' paths cross several times over the years but they don't realise the other exists. This is a dramatic, well-paced read that spans 40 years and you have to admire the clever ways Rees brings the two sisters so tantalisingly close to meeting each other throughout the story.

---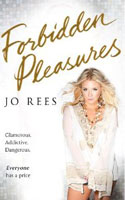 Forbidden Pleasures (2010)
Savannah has always enjoyed the high life but felt shut out of her father Michael's casino business dealings. Lois is a disgraced cop who runs security operations at a rival Las Vegas casino. From the explosive opening of fight night, both women's lives become intertwined as their casino groups want to be the first - and best - in a new Shanghai development. If you love glamorous locations, intrigue and high-stakes rivalry, then you'll hit the jackpot with Forbidden Pleasures.