JODI McALISTER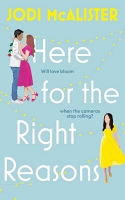 Here for the Right Reasons (2022)
After losing her retail job due to the pandemic, criminology student and Marry Me, Juliet fan Cece drunkenly applies to be a contestant on the reality TV show.
Her Romeo is Olympic sailor Dylan but then Cece is eliminated on the first night after a run-in with villain Lily results in her falling in the pool.
However, due to stage four restrictions, Cece can't leave the site so she agrees to being filmed in extra scenes, where she lends an open ear to her new friend Dylan. Both Cece and Dylan are here for different reasons than finding love but is romance still on the cards?
I really enjoyed this story, much more than I was expecting to, with its different take on the reality TV genre in Cece being an early evictee. Her background of being raised in foster homes added an extra dimension to her character. The book has been publicised as the first in a series set on the dating show, so I'll be keeping my eye out for the next.

---