JILL SANTOPOLO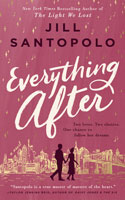 Everything After (2021)
College psychologist Emily hears a song on the radio and recognises the voice. It takes her right back to her own college days when she and boyfriend Rob performed together. She discovers he is now known as Austin Roberts and has released a best-selling single about her – the one who got away.
When Emily and her doctor husband Ezra suffer a heart-wrenching tragedy, it again brings up her past with Rob.
Partly told through journal entries, this is a moving story about loss, the choices we make and second chances.

---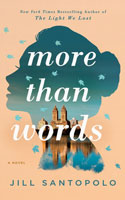 More Than Words (2019)
Nina Gregory has the perfect life: she's the heiress of the glamorous Gregory Hotels, shares a fantastic relationship with her boyfriend Tim, and works as a speechwriter for Rafael O'Connor-Ruiz, the man who might become the next mayor of New York.
One day, she finds out that her father, the man she trusts and loves the most in the world, is not the man she thought he was and her world crumbles. All her choices and decisions in life were made to please her father and now she doesn't know who she is anymore. Will Nina keep living the life her father planned for her or will she start living as she wants to?
The Light We Lost, the author's first adult novel, is still my favourite, but I enjoyed this new story. Nina, as a character, feels realistic and familiar and she develops well as she struggles not only with the truth about her father, but also with a complicated love life as she has to decide whether to stay with Tim, her best friend who has known her all her life, or to follow her feelings for her handsome boss Rafael.
The story is engaging, heartbreaking, captivating, and very well-written. The bright lights of New York, the glamorous social parties, romance, friendship, family ties... you will find them all in this beautiful and immersive novel. (NP)

---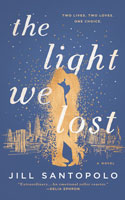 The Light We Lost (2017)
On 9/11, life changed for many people, including Columbia University students Lucy and Gabe, because this is the day they first met. Circumstances separated them until a year later when they meet again in a bar and this time it seems like nothing can keep them apart. But, while Lucy is happy with her job as a TV producer in New York, Gabe is restless and wants to do something that will change the world. So he takes his camera and goes to Iraq to capture the war, leaving behind his life with Lucy.
Over the years, as Lucy goes on with her life, marrying Darren and having children, and Gabe travels all over the world with his camera, they will keep in contact and meet again, their love for each other never really fading.
This book broke my heart - it's such a beautiful and heart-breaking love story. I loved the character of Lucy, even though I didn't always agree with her choices. As much as I liked Darren (although I wanted to hit him when he said that a mother should give up her job to stay at home with her kids), I am team Gabe. He is a bit selfish and self-centred, but how can you not love a guy who quotes Shakespeare?
Beautifully written, consuming and romantic, this unforgettable novel will take you on an emotional rollercoaster so, before you start reading it, stock up on tissues because you will need them. (NP)