JILLIAN MEDOFF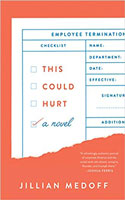 This Could Hurt (2018)
Lucy works in HR for a consumer research company but times are tough. The global financial crisis is biting and layoffs are a regular occurrence. Her powerhouse boss, Rosa, is determined to save as many of her staff as she can but it seems she's got more pressing issues to worry about. Meanwhile Rob has been slacking off, not enjoying the recruitment side of his expanded role; Kenny is looking for a better job; and Leo spends too much time worrying about Rosa.
Told from these different viewpoints, this is an engaging story centred around a downsizing workplace, delving into the misery, rivalry and camaraderie of the staff.

---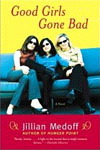 Good Girls Gone Bad (2002)
Actuary Janey Fabey joins group therapy with Dr Hensen because she keeps imagining how she would kill herself. There she meets Suzanna, aka The Dream Weaver, who prefers the company of her dog to men; Laura, who is a top performer in the one-night-stand Olympics; Bethany, a 40-year-old divorcee who still lives with her mother; Valentine, a fat woman who can't stop eating; Ivy, a southern belle addicted to cosmetic surgery; and Natasha, who fears germs. Together, the group help each other battle their personal problems but one day take it all too far.

---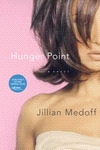 Hunger Point (1996)
Twenty-six-year old Frannie Hunter juggles her life between working at temporary jobs, putting up with her mother's attempts to drive her out of their house and visiting her younger sister Shelly who is in hospital after a long struggle with anorexia. Frannie's mother, Marsha, has always been overly obsessed with her daughters' weight and dietary habits, controlling their calorie intake, and the type of food they have, pushing the message that they need to be thin. Already confused over her own relationship problems, Frannie also has to deal with her mother's possible affair, her dad showing little interest in caring for Shelly, her best friend Abby's relationship with a married man, and Shelly showing signs of depression after her recent suicide attempts. Soon Frannie finds herself on the verge of a breakdown as well.
A painfully raw and realistic story revolving around the theme of anorexia, apparent in our culture in its over-emphasis on perfection and body image. (XT)