JESSICA HATCH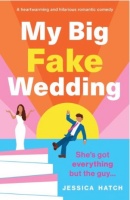 My Big Fake Wedding (2022)
Bea has broken up with her boyfriend when she finds out that she's won a competition to have her dream wedding staged. But instead of telling the event planner the truth, she goes ahead with plans for a big summer wedding.
All she needs to do now is find the groom! Maybe her smooth colleague Andrew will be the one.
The premise had potential to be a real amusing story of a bride desperately hunting for a fiance while hiding the secret from her wedding planners. I don't know what happened between the pitch and the final product but the execution of this was completely off.
Bea was a horrible character – and not in a good, entertaining way either. She was selfish, self-absorbed, absurd; her love interest was similarly annoying; her job wasn't particularly interesting; and the other guy was bland as. Not worth RSVPing for this wedding.

---