JESSE Q SUTANTO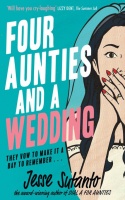 Four Aunties and a Wedding (2022)
In this sequel to Dial A for Aunties, Meddy and Nathan are getting married in England and her aunties have found the perfect wedding planners – some very distant family members of course. But luckily Meddy hits it off with the photographer Staphanie and everything seems to be going to plan.
However, Meddy is nervous about what Nathan's parents will think of her loud, eccentric Chinese-Indonesian family. Her aunts outdo themselves by being dressed by an avant-garde Indonesian designer, topped off with Komodo dragon fascinators and sprouting British slang.
Then the night before her wedding, Meddy realises Staph and her family are not who they say they are – and mayhem ensues. This will appeal to anyone who loved the first Aunties novel as well as anyone looking for a rollicking good time. It was another crazy ride and I am interested to see if the honeymoon provides the setting for another story.

---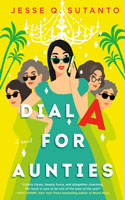 Dial A for Aunties (2021)
You know you've had a terrible blind date when a) the guy is someone your meddling mother has been chatting to online pretending to be you and b) you end up accidentally killing him. But Meddelin doesn't have time to deal with the dead body right now because her family are working a big wedding at a new island resort the next morning, supplying the flowers, cake, make-up, photography and entertainment.
But after a mix-up ensures the body comes along for the ride, Meddy's in for a wild weekend with her aunties involving a blast from her romantic past, drunken groomsmen and a heist.
This is a super-funny read full of slapstick moments reminiscent of a scene from Weekend at Bernie's or Fawlty Towers – so much so that it has already been picked up for a possible screen adaptation by Netflix. But my favourite parts were the fractious relationships between the main character, her mother and aunties, and the insights into their Indo-Chinese heritage.

---