JENNY MOLLEN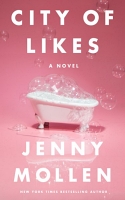 City of Likes (2022)
Megan has recently moved from LA to New York with husband Iliya and their two young sons. She gets work as a copywriter for a company marketing CBD bath bombs to mothers.
Megan asks mommy influencer Daphne Cole to be the face of the product but soon Daphne takes Megan under her wings, encouraging her to become an influencer herself.
This is a quick satirical read about the shallow world of influencing, from freebies and fashion shows, to designer handbags and hashtags, where one's worth is measured in likes and your business is about creating a fantasy life while being glued to your phone.